Samsung's midrange Galaxy A line is getting pretty serious with the Galaxy A72. If rumors are correct, we are about to see a midrange phone with a 90 Hz or even 120 Hz screen, 5G connectivity, and a camera with an OIS module — coveted features all around.
With that in mind, the eternal question "Should I buy this year's midranger or last year's flagship?" might pop up in your head.
The Galaxy S20 is not officially sold in the Samsung store anymore, but it's out there in the hands of retailers and carriers. And deals will follow.
The Galaxy A72 is expected to cost around $550-$600. The Galaxy S20 still holds a price of about $950-1000, but we've seen it drop as low as $500 in recent months. With that said, is it worth waiting for a Galaxy S20 deal or should you just buy a Galaxy A72 instead?
Here's a quick look at things:
Galaxy A72 to have a plastic back, S20 is metal and glass
Galaxy A72 to have no zoom camera. We expect camera quality to be slightly worse than S20
Galaxy A72 to have a huge 5,000 mAh battery, S20 has 4,000 mAh
Galaxy A72 to have a big, 6.7-inch display vs 6.2-inch on the S20
Galaxy A72 to have a Snapdragon 750G (or 720G) vs Snapdragon 865
Galaxy A72 to have 6 GB of RAM vs 12 GB RAM on S20
Galaxy A72 to also have a high refresh rate (90 Hz or 120 Hz) vs 120 Hz on S20
Galaxy A72 price: $550 – $600 (speculated) vs wait-for-discount for S20
Galaxy S20 has a curved "edge" screen
Galaxy A72 to have a headphone jack
So, what are the tradeoffs here? Both phones look kind of similar, but the A72 is definitely bigger. However, the S20 has a curved "edge" screen, if that's what you're into. Also, the S20 will feel a bit more premium with its glass-and-metal construction.In terms of performance, the Galaxy S20 will still win, with the Snapdragon 865 consistently outperforming the 750G. We also expect the Galaxy S20's camera to outperform the Galaxy A72, especially in low-light conditions.
Our opinion? Wait for a deal on the S20 or — if you are looking for a big screen — the S20+. Only choose the Galaxy A72 if you really hate the curved edge display.
Also read:
Galaxy A72 vs Galaxy S20 design and display
If screen size is of utmost importance to you, then the A72 will definitely look like the more lucrative offer. With a bit, 6.7-inch screen with the same quality AMOLED as the flagships, it will definitely be a neck-twister. Especially since it's rumored that the A72 will have a high refresh rate as well (either 90 Hz or 120 Hz).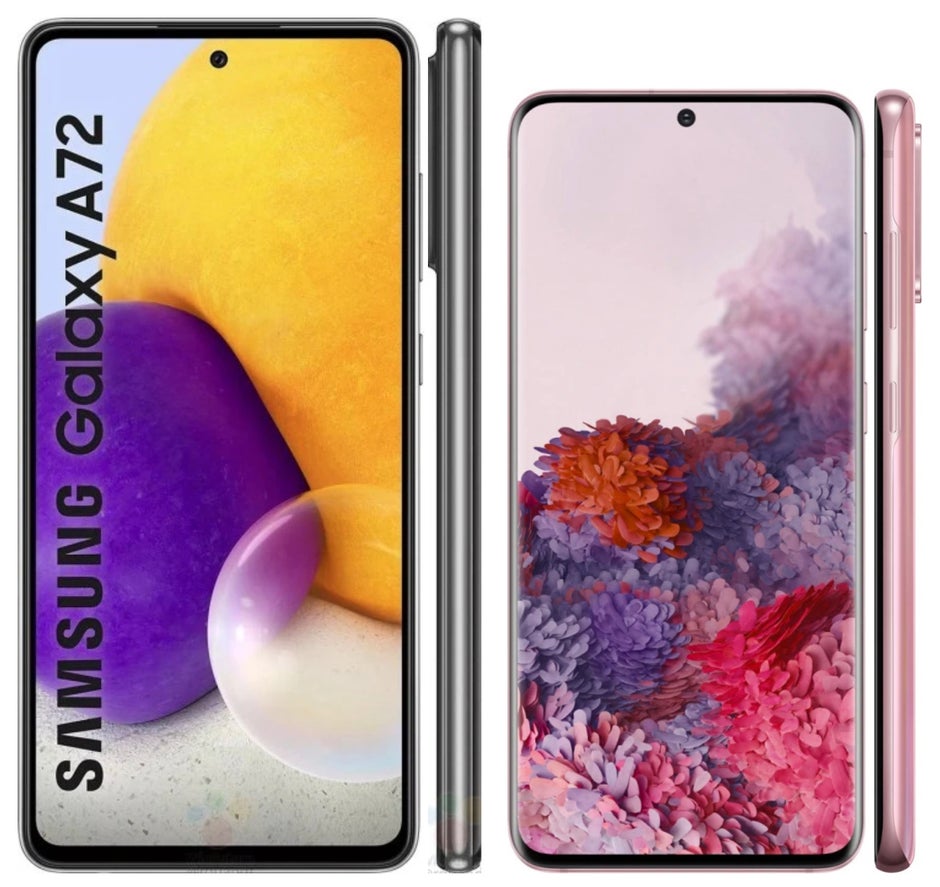 Galaxy A72 vs Galaxy S20
The Galaxy S20 is definitely a more compact experience, which may or may not be your thing. So, if an S20+ doesn't pop up at a great discount, that A72 is going to look mighty tempting.
When it comes to build, the Galaxy S20 will definitely be the better-feeling phone. Samsung's recent switch-back to plastic glasstic backs on their phone feels like a bit of a gut-punch to us cork sniffers. If you happen to always use your phone with a case — no biggie. The S20 also has the Samsung-signature dual curved screen, which a lot of people actually dislike, so again — if you are in that particular camp, then point goes to Galaxy A72.
A few more interesting tidbits — both the Galaxy S20 and Galaxy A72 will have a microSD card slot for storage expansion, yet only the A72 will have a headphone jack. On the flip side, the Galaxy S20 has a set of pretty adequate stereo speakers, whereas the A72 will only have a mono, bottom-firing driver, which — if past models are anything to go by — will sound honky and "meh".
Galaxy A72 vs Galaxy S20 camera
The Galaxy A72 will have impressive camera specs on paper — a 64 MP main camera and a 32 MP selfie camera. Actually, what's that? A full set of quad cameras on the back?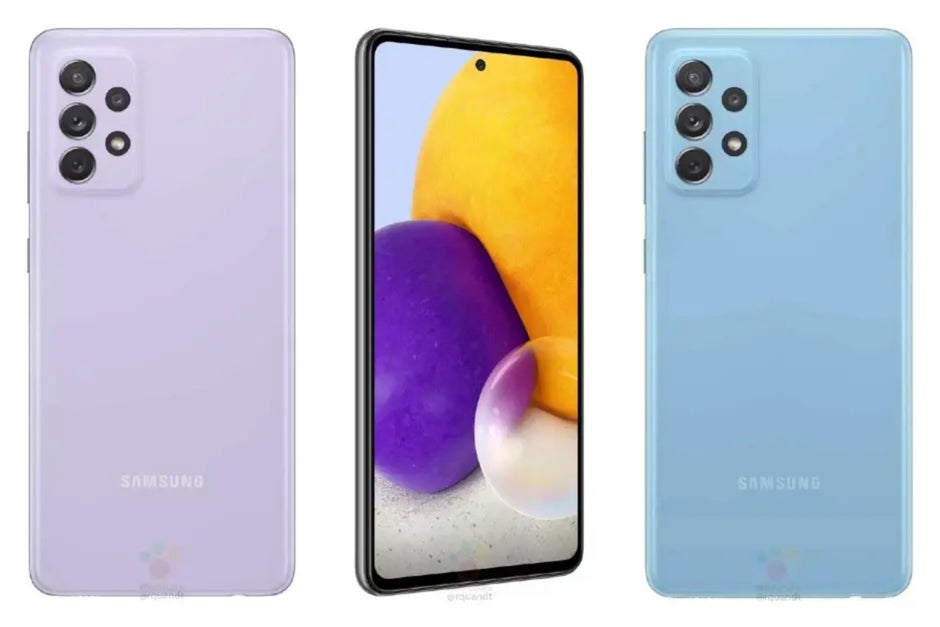 Galaxy A72
Yeah, OK, let's dial it back a little. The Galaxy A72 will have — as per rumors — a 64 MP main camera, a 12 MP ultra-wide camera, a 5 MP macro camera, and a 5 MP depth sensor. So, two of the four cameras on the back are… you know — for show.
The Galaxy S20 has a 12 MP main camera, a 12 MP ultra-wide camera, and a 64 MP zoom camera.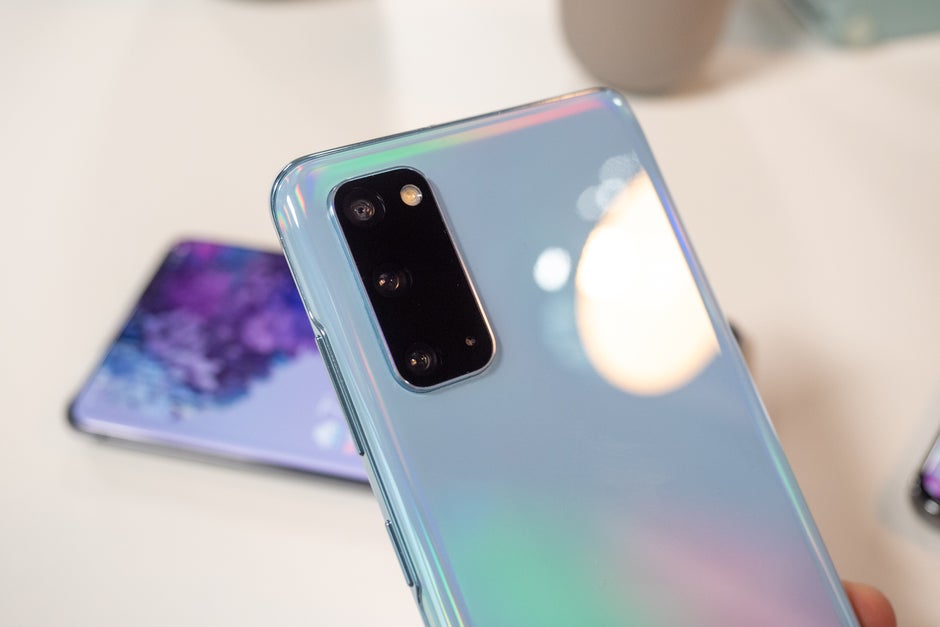 Galaxy S20
During the daytime, we expect these shooters to go blow for blow — if previous experience with the Galaxy A71 is anything to go by. But that 64 MP camera on the A72 will have smaller pixels and definitely struggle more in low-light scenarios than the S20's 12 MP sensor. That's our prediction, based on the Samsung Galaxy A71 review — we can't wait to test it out.
Rumors also say that the Galaxy A72 will have optical image stabilization on its main camera, which is a feature we still rarely see on midrangers. A welcome one, of course.
Then, there's things like Portrait Mode, which are still up in the air. The Galaxy S20 can take wide-angle portraits and zoomed-in "telephoto" portraits for more natural features on the subject's face. Will the A72 also allow for this, or will you be stuck with wide-angle portraits only? We'll have to wait and see.
As for the selfies — a 32 MP sensor on the front sounds a bit scary. Will it underline absolutely every wrinkle on our faces? Probably… but past experience shows us that the 32 MP camera of the Galaxy A71 did not outperform the 12 MP selfie sensor on the Galaxy S20.
Bottom line, we expect competent camera performance from both phones, but the S20 will have the highground.
Galaxy A72 vs Galaxy S20 specs and performance
The Galaxy A72 is rumored to come in two flavors — one with 5G and one without. Some rumors suggest that this will also split it in two differently equipped phones altogether — one with a Snapdragon 750G and one with a Snapdragon 720G processor. That's still a bit of an iffy rumor because the Snapdraong 750G is definitely a class above the 720G and it would be a bit weird for Samsung to create such a rift between models that are supposedly the same phone.
Then again… It IS Samsung.
The 2.84 GHz Snapdragon 865 that is in the Galaxy S20 consistently beats the Snapdragon 750G in benchmark scores. So, the Galaxy S20 will still be the more powerful phone, despite being a year older. It will beat the A72 when it comes to gaming and heavy tasks. In daily apps, chats, mails, etc. — both phones should feel just fine.
For illustrative purposes, the Xiaomi Redmi Note 9 Pro has a Snapdragon 720G:
Both phones to have a minimum of 128 GB storage, expandable via a microSD card slot.
In terms of RAM, the Galaxy A72 will have either 6 GB or 8 GB, tied to storage tier, whereas the Galaxy S20 comes with 12 GB of RAM. Great for bragging rights, for sure, but we'll have to wait and see if it makes a difference in performance and multitasking in a meaningful way.
Galaxy A72 and Galaxy S20 5G
One thing that might attract you to the Galaxy A72 is support for 5G connectivity "on the cheap". Well, again, the Galaxy S20 also has 5G antennas (if you are buying a US model, that is!). So… the A72's perks are consistently extras are consistently shadowed by the Galaxy S20. Sorry there, little guy!
Galaxy A72 vs Galaxy S20 expectations
The Galaxy A72 is shaping up to be a pretty cool midranger. But, it's kind of hard to recommend it over a properly discounted Galaxy S20 or Galaxy S20+. Samsung's 2020 flagships were just too good, despite having a bit of a bland design. If you spot an S20 for $650, don't even think about the Galaxy A72.